LAN for Kids: The Aftermath
Well I just realized that it has been nearly two weeks since LAN for Kids and I hadn't done a follow up. I am just recovering now so I figured this might be a good time. LAN for Kids was insanely fun! I had such a great time putting it together, thank you to everyone who came out. I would also like to thank our sponsors once again. The Tech Ranch for sponsoring the venue, Michael Clark from Danix who let us use a whole bunch of his networking equipment, Scott Lease from Pepsi who donated a ton of pop, Brandon VanCleeve from Pine Cove Consulting who let us use a couple of their switches, Colter Lease from Propaganda Works who donated a sweet John Belushi print, Stacey Alzheimer from Theraputika who donated an hour long massage, Richard Stallman/The Free Software Foundation for signing the comic and HeadRoom for the use of their headphones. Go buy their stuff now.
Because you can't expect to put on a large event without running into problems, and because it's sometimes funny to hear about those problems afterwards, especially if you weren't responsible for fixing them, I will mention our minor freak outs briefly. First we woke up to snow. Dirty, evil snow. Fortunately logistics problems had ruled out our plan for an outdoor LAN (hahaha) and we all knew how to man up so the snow didn't slow us down. Take that Mother Nature--oh snap! We also didn't have the internets. Well, we had wireless internet but none of the wired jacks worked. Apparently one of the internet trucks broke down in the internet tubes. We thought Steam games might be a lost cause because even though we were hosting our own servers we still had to make an initial login to Steam to host the game. Then, out of nowhere, Kevin swooped in like a ninja and bridged his laptop's wireless connection, plugged it into the router and BAM, internet for all! Kevin also set up some sweet traffic shaping so our network performed like a champion and a boss. Kevin saved the day, many thanks Kevin! Also big thanks to Ian Nicklin who helped with setup and game hosting on his personal super computer and Peter Nix who also helped with hosting and setup, you guys rule!
The gaming rocked! Games from 20 years ago are the best. We played some huge Quake 3 games, a StarCraft 1 game, a little Left4Dead and finished off the night with Team Fortress 2. Some guys brought an Xbox with Street Fighter and an arcade control pad and played it on the projector. It was RAD. I bought WAY too much pizza. On the up side it meant everyone got (was forced) to take some pizza home at the end of the night. The event ended just before midnight. Unfortunately during all the craziness I completely forgot to bring my camera, so no pictures this time, but trust me, the setup was beautiful and epic and beautifully epic.
Raffle Winners:
XKCD comic signed by Richard Stallman - Chris Webster
John Belushi Print - Carson Welch
1 Hour Massage - Erin Snyder
Wii Guitar Hero Controller - Ian Nicklin's boss
Overall I/we had an amazing time and I can't wait to run another. In fact I will be trying to put together some additional equipment so we can have a complete LAN kit in house and we could potentially host smaller events once every month or two. I did learn a couple of things and I think future events will be much cheaper ($5 or possibly free) and we will sell the food and drink. We also need to find some cheaper space but I'm pretty sure we can work that out. Thanks again to everyone that donated, helped, came or just generally supported us, we really appreciated it!
Boring logistical stuff:
The tough part in hosting LAN parties is that there are actually some non-trivial costs for each additional person that attends. Each person needs a decent amount of table, a chair, three or so outlets, a port on a preferably gigabit switch, CAT 5 to the switch, long CAT 5 from each table switch to a central switch which needs to be a fairly large gigabit switch. Fortunately each piece of that equation is a one-time cost. Unfortunately renting a large space can be relatively expensive compared to the number of people the space can host times the amount of money we can reasonably charge them to get in, especially if we want some of that money to go to a charity. If I can get the equipment we will be able to host approximately 50-60 people. Fifty or sixty people are all we could reasonably fit into the Homewood Suites ballroom. I went to nearly every big rental space in Bozeman before we decided on Homewood Suites and the general consensus was $300-$400 for 6 hours to a full day worth of the meeting space. The Homewood Suites was really nice and gave us a discount price of $200 for the whole day which made them SUBSTANTIALLY cheaper than the competition. Even still, assuming we didn't have a donation to cover the room we would need 40 people at $5 each before we broke even on the space. If we were to rent out the SUB Ballroom, which would be ideal, we couldn't even cover the cost of the room at $5 per person. However, like I said, we may be able to get some smaller spaces for free in order to host intermediate LANs and then we can maybe splurge once a year for a big meeting space and go crazy.
**Update 5-21-2010**
Tomorrow is the big day! A little bit of new news:
HeadRoom
has lent us some headphones to demo at the event! You will be able to check them out at the registration desk. I think we have 7 pairs, so first come first served.
This being LAN Party eve and all I figured I would throw up some pictures. First we have the insanely awesome John Belushi print we will be raffling off. Unfortunately the picture doesn't come close to doing the print justice. The print was donated by Colter Lease of Propaganda Works. Thank you so much Colter!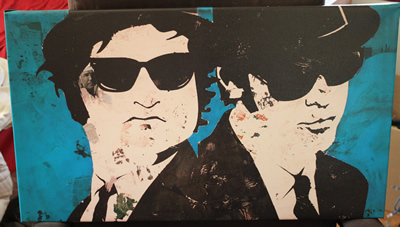 Next up we have the gigantic pile of wires that is doing its best to take over my room. The big pile sent out the little pile sentries to check for danger before mounting a full blown attack.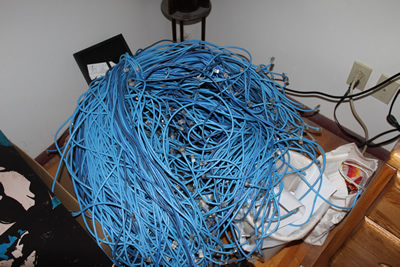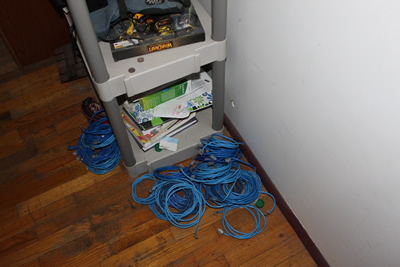 Here are two of the SEVEN! 24+ port switches we'll have at the LAN. Many thanks to Michael Clark of Danix and Brandon VanCleeve of Pine Cove Consulting for helping us out on the switch front!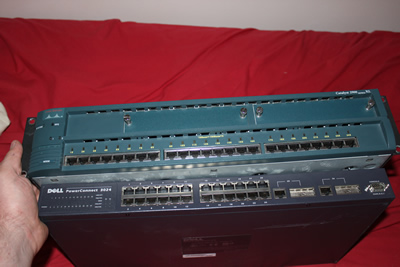 The 16 cases of pop we will be starting off with tomorrow. If you're not a pop drinker, don't worry, the water is hiding in the truck.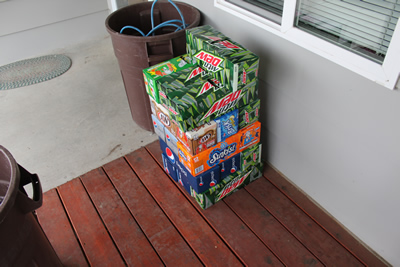 Finally a couple pictures of my car that can just barely contain all of the LAN accoutrements that will be heading out tomorrow morning.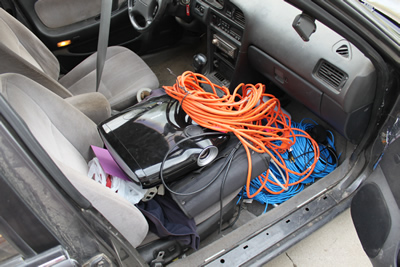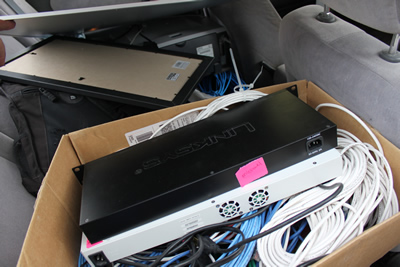 We will also be raffling off a 1 hour free massage courtesy of Stacey Alzheimer and Theraputika. Everyone still on the fence about coming, do! It will be a great time to support some awesome programs. Hope to see you there!
**Update 5-12-2010**
We got a very special package from Boston today.
Mr. Richard Stallman
signed an
XKCD comic
to be raffled at the event!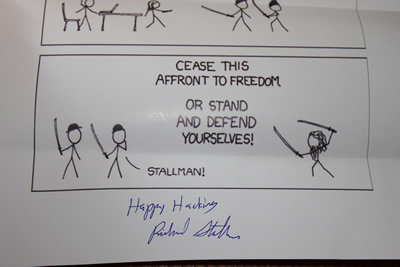 Digital Engine Software and The Bozeman Tech Ranch are proud to sponsor the first ever LAN for Kids event to be held Saturday May 22nd from 4:00 p.m. to 10:00 p.m. at the Homewood Suites in Bozeman. Net proceeds will go to benefit Thrive and the CAP Mentoring program.
Digital Engine Software will be offering the following hosted games throughout the evening:
Quake 3
Unreal Tournament
WarCraft 3
Team Fortress 2
Players are free to bring and host other games.
Attendees will be treated to all the FREE pizza and drinks they can handle and the opportunity to win some amazing raffle items. Please join us for a fun night to benefit a great cause.
Tickets are $20 each ($10 with student I.D.) and space is limited so register soon!
*All networking, power, tables and chairs will be provided. Please do bring your own computer and monitor.
Questions?
Contact Mike Archer at 406-209-5799 or
marcher@digitalenginesoftware.com
.
Special Thanks To: